American Cocker Spaniel
General Information - American Cocker Spaniel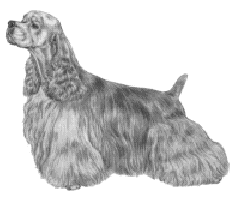 Group:
Gundog
Size:
medium
Lifespan:
12-15 years
Exercise:
medium
Grooming:
high
Trainability:
high
Watchdog ability:
high
Protection ability:
low
Area of Origin:
United States of America
Date of Origin:
gained American Kennel Club recognition in 1946
Other Names:
Cocker Spaniel
Original Function:
flushing and retrieving game
---
History
Developed in the United States and descended from one of the oldest Spaniel breeds in the "Cocker Spaniel" the "Yankee" as he is affectionately known, was originally bred to find and flush woodcock and is an equally enthusiastic and capable hunting companion as he is an obedience and agility competitor, show dog and companion to his human family.
Temperament
The American Cocker Spaniel is an ideal family companion, with his never tiring desire to please and endearing expression. An ideally sized housedog equally at home curled up on your lap, the sofa, or in front of the hearth, as will he be in either a rural or suburban setting. By following a routine training programme the Yankee generally responds quickly with that overwhelming desire to please. They will not respond to harsh training methods, don't lose that typical "merry" temperament.
Upkeep
With his pleading expression and overwhelming desire to snack the American Cocker can easily over indulge, watch his weight, its not only unhealthy but uncomfortable. Routine exercise helps with his overall fitness and health, this need not be extreme, a romp in the park or along the beach or a "fetch the ball" work out will satisfy his requirements.
A Yankee in full coat is a joy to behold, his coat is long and silky and requires regular attention. Regular appointments with a groomer are recommended and will help maintain his general well-kept appearance. You can help by thoroughly combing him at least once a week; take care around the ear canal keeping this area free of hair to assist ventilation. Don't feel that you have let