Australian Silky Terrier
General Information - Australian Silky Terrier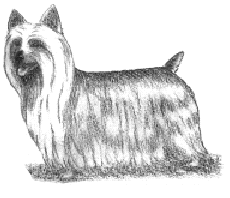 Group:
Toy
Size:
small
Lifespan:
11 - 14 years
Exercise:
little
Grooming:
moderate
Trainability:
medium
Watchdog ability:
very high
Protection ability:
very low
Area of Origin:
Australia
Date of Origin:
late 1800s
Other Names:
Sydney Silky, Silky Terrier
Original Function:
small vermin hunting and companion
---
History
Developed in the nineteenth century, the Australian Silky Terrier is one toy breed regarded as truly Australian. Early examples of the breed were simply known as Rough or Broken-Coated Terriers and were crosses of various larger British terrier breeds, of which some are no longer recognised. Further crossings to Dandie Dinmont and Skye Terriers and later to the Yorkshire Terrier contributed to the silky coat and small size we know today. Initially the breed was known as the 'Sydney Silky' due to the prominence of the breed in Sydney. The official name, Australian Silky Terrier, was eventually adopted in 1956.
Temperament
Usual terrier characteristics embody keen alertness, constant activity and occasional defiance. Silkies were originally bred to kill rodents, and still posses ratter characteristics; always watchful for scurrying prey. Silkies are a robust breed, generally very happy and love to play. But they also have a mischievous side, and although they are regarded as quite intelligent, very loyal and trainable, a defiant streak can appear. Silkies are known to maintain a puppy attitude throughout life.
Upkeep
This is an active breed requiring slightly more exercise than most toys. It enjoys a moderate walk on leash, but especially likes the chance to nose around on its own in a safe area. Much of its exercise requirements can be met with vigorous games in the yard, or even house. Despite its hardiness, it is not a breed for outdoor living. Its coat needs brushing or combing every other day.