Basenji
General Information - Basenji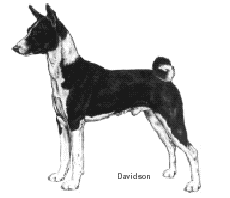 Group:
Hound
Size:
Medium
Lifespan:
12-14 years
Exercise:
Medium
Grooming:
Minimal
Trainability:
Very low
Watchdog Ability:
Very high
Protection Ability:
Very low
Area of Origin:
Central Africa (Zaire and the Congo)
Date of Origin:
Ancient times
Other Names:
Congo Dog, Congo Terrier
Original Function:
Hunting small game
---
History
This breed has existed since 3600 BC and enjoyed great popularity with the ancient Egyptians. When the Egyptian culture faded away, the Basenji continued to thrive in Central Africa until it was rediscovered by British explorers in the late 1800s. The English were taken by this compact breed's ability to scent, hunt and round up quarry. Successful breeding of imports did not take place until 1936 and since then its popularity has soared.
Temperament
Basenjis are alert, very active and extremely intelligent. They can climb fences and tend to chew a lot. A lot of toys to keep them occupied is essential. This breed is best with patient older children and should not be trusted with non-canine pets. Basenjis have a strong urge to please and should be trained from an early age. The Basenji is somewhat aloof and dislikes wet weather.
Upkeep
The Basenji is an active dog that needs daily mental and physical exercise. Its needs can be met by a long walk followed by a vigorous game, or by running freely in a safe, enclosed area. It can live outdoors only in warm climates and generally does best as an indoor dog with access to a yard. Coat care is minimal, consisting of only occasional brushing to remove dead hair.