Bulldog
General Information - Bulldog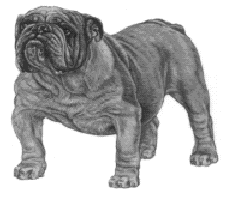 Group:
Non Sporting
Size:
Medium
Lifespan:
8-10 years
Exercise:
Very low
Grooming:
Low
Trainability:
Low
Watchdog Ability:
Very low
Protection Ability:
Low
Area of Origin:
England
Date of Origin:
1200s
Other Names:
English Bulldog
Original Function:
Bull baiting
---
History
The Bulldog's heritage lies in England where it descended from the Alaunt, which was a Mastiff-type dog. The Bulldog got its name because it was an apt cattle driver as well as a hunter of wild boar. From the 13th Century on, the breed's qualities were specifically bred so that it was an able contestant in bull-running, bull-baiting and pit fighting. When all of these activities were banned, the Bulldog's status would have dwindled had it not been for the efforts of a few staunch Bulldog-loving fanciers. The Bulldog Club held fast to the breed and it was among one of the first few recognised by the English Kennel Club in 1873. The breed has been popular in North America since the end of the 19th Century. The Bulldog fits in well just about anywhere. His lovable personality makes him a good family pet.
Temperament
The Bulldog is a friendly and good natured dog. Gentle and mellow, the Bulldog is very good with children and strangers. Some Bulldogs may be aggressive with strange dogs, but generally gets along well with other pets.
Upkeep
The Bulldog appreciates a daily outing but cannot tolerate hot humid weather. It should not be expected to jog or walk great distances, or to jump from any heights. Most bulldogs cannot swim. Most bulldogs wheeze and snore, and some drool. Coat care is minimal, but facial wrinkles and any folds around the tail should be cleaned daily.