Cairn Terrier
General Information - Cairn Terrier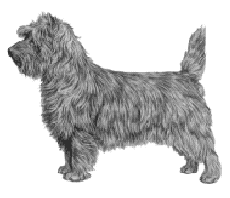 Group:
Terrier
Size:
small
Lifespan:
12-15 years
Exercise:
moderate
Grooming:
moderate
Trainability:
very hard
Watchdog ability:
very high
Protection ability:
low
Area of Origin:
Scotland
Date of Origin:
Middle Ages
Other Names:
none
Original Function:
killing vermin
---
History
This dog, known since 1500, was first publicly presented in 1909 and became popular after 1930. The Cairn is one of Scotland's original Terriers, probably a contributor to today's Scottish, West Highland White and Skye terrier breeds. Named for the piles of small stones used to mark Scottish farm borders and graves, the Cairn Terrier's job was to rout small animals from their lairs in these stone piles. Though used for such purposes for centuries, the Cairn Terrier is now primarily a companion dog. He also excels at Terrier (Go-To-Ground) trials. Everyone remembers a Cairn called "Toto" in the film "The Wizard of Oz."
Temperament
The Cairn is the essence of terrier; plucky, spirited, bold, inquisitive, hardy, clever, stubborn and scrappy. It is responsive to its owner's wishes, however, and tries to please; in fact, it is surprisingly sensitive. The Cairn Terrier is a self-assured and alert dog breed who makes a good watchdog. Affectionate and loving, the Cairn Terrier is naturally patient with children.
Upkeep
Despite its small size, the Cairn needs outdoor exercise every day, either a moderate walk on leash, a fun game in the yard or an excursion in a safe area. It can live outdoors in temperate climates, but it does better sleeping indoors. Its wire coat needs combing once weekly, plus stripping of dead hair at least twice yearly.