Canaan Dog
General Information - Canaan Dog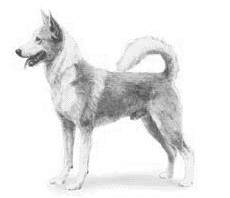 Group:
Non sporting
Size:
large
Lifespan:
12-15 years
Exercise:
high
Grooming:
very low
Trainability:
medium
Watchdog ability:
very high
Protection ability:
high
Area of Origin:
Israel
Date of Origin:
ancient times
Other Names:
Kelef K'naani
Original Function:
livestock guardian
---
History
The Canaan Dog, also called the Kelef K'naani, traces its ancient origins back to 2200-2000 BC in Israel where it was used to guard livestock from jackals and other predators. It is one of the few natural breeds left, and still counts a few wild or semi-wild members in the Middle East. Its modern, true-breeding form began in 1935 through the efforts of Dr. Menzel and her husband, in Jerusalem. It has recently become better known outside of Israel, finding favour in the USA and in Europe.
Temperament
If raised with children or other pets, the Canaan Dog will have a natural protective instinct and will be devoted to watching over them. Canaan Dogs are very attached to their owners and adults will grieve if placed with a new family. Canaan Dogs are highly trainable, dependable and obedient and highly territorial.
Upkeep
This is a very work-oriented breed. It needs a lot of physical and mental activity every day to satisfy its quest for work. It can live outdoors in temperate to cool climates, but it enjoys being with its family inside as well. This is a dog that cannot live in an apartment and that should preferably have ready access to a yard. Its coat needs brushing or combing weekly.