English Setter
General Information - English Setter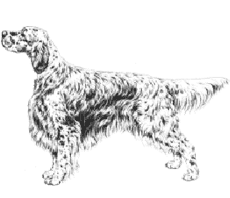 Group:
Gundog
Size:
Large
Lifespan:
10-14 years
Exercise:
High
Grooming:
Medium
Trainability:
Medium
Watchdog Ability:
High
Protection Ability:
Low
Area of Origin:
England
Date of Origin:
1300s
Other Names:
None
Original Function:
Bird setting and retrieving
---
History
The English Setter descends from the ancient family of sporting breeds known in England since the 1300's. The spaniels that existed there originated from Spain, but were crossed through the ages to the Spanish Pointer, the large Water Spaniel, and the Springer Spaniel. For centuries, these dogs were prized more for their ability to work during the hunt than for their appearance, and records of breeding lines were not kept. It wasn't until the 1800's that two men, Laverack and Llewellin, attempted to standardise and promote the breed through conscientious breeding programs. The breed was one of the first to be admitted for official registration in kennel clubs on both sides of the Atlantic. Today, this elegant and dignified dog is equally at ease in the field and in the house.
Temperament
English Setters are extremely devoted and love nothing more than to be part of their families. They are sweet, gentle and placid and love to play, jump, run and dig. English Setters get along with children and love to play with other dogs.
Upkeep
The English Setter needs a lot of exercise every day, requiring at least an hour of hard exertion. It does best when it can live inside and play outside. The long coat needs regular brushing every two or three days. The white coat may be difficult to keep gleaming in some areas. Some clipping and trimming every month or two is advisable for optimal good looks.