Norwich Terrier
General Information - Norwich Terrier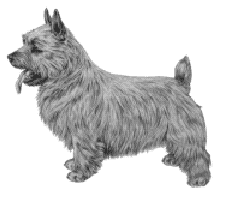 Group:
Terrier
Size:
small
Lifespan:
13-15 years
Exercise:
moderate
Grooming:
moderate
Trainability:
moderate
Watchdog ability:
very high
Protection ability:
very low
Area of Origin:
England
Date of Origin:
1800s
Other Names:
none
Original Function:
Ratting, fox bolting
---
History
Short-legged Ratting Terriers have long been valued in England, but only in the 1880s did the breed that would eventually become both the Norwich and Norfolk Terriers emerge from obscurity. At that time, owning one of these small ratters became a fad among Cambridge University students. The little terriers became known as CanTab, and later Trumpington Terriers. Around 1900, a Trumpington Terrier named Rags came to a stable near Norwich and gained notoriety as a ratter as well as sire. He sired countless offspring and is the patriarch of the modern Norwich.
Temperament
The Norwich Terrier is a spunky little dog that loves to know what is going on, who is going to be there, and generally be the center of anything that is going on. Norwich Terriers get along with other pets and love to play with children.
Upkeep
The Norwich needs to stretch its legs with a good walk or short run every day. It especially likes combining a run with a chance to explore, but any such off-leash expeditions must be done only in a safe area. It is better suited as a house dog with yard access, but it can stay outdoors during the day if need be in temperate to warm climates. Its wiry coat needs combing one to two times weekly, plus stripping of dead hairs three to four times a year.