Old English Sheepdog
General Information - Old English Sheepdog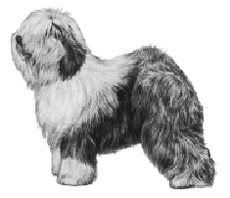 Group:
Working
Size:
Medium - large
Lifespan:
10 -12 years
Exercise:
Medium
Grooming:
Very high
Trainability:
Very low
Watchdog Ability:
Very good
Protection Ability:
Medium
Area of Origin:
England
Date of Origin:
1800s
Other Names:
None
Original Function:
Sheep herder
---
History
Although the origin of the breed is uncertain, the Old English Sheepdog has existed in England for at least two hundred years. The breed likely descended from other European herding dogs that made their way to the British Isles on visiting ships. In earlier times, the breed's temperament was less than sterling which made it a good herding dog in areas where wolves were a threat to flocks of sheep. However, as the breed's role changed from herder to drover.They were best known for droving New Forest ponies to market.So did the temperament. The breed is hardy, intelligent and is still a good worker in some rural areas of England. The English Kennel Club recognised the Old English sheepdog in the 1870s. This beautifully-tempered dog enjoys life in the country over that of the city.
Temperament
Old English Sheepdogs were originally used as herding dogs but nowadays make sweet-tempered family pets. They are sometimes couch potatoes but love nothing more than to play with children. Described as lovable teddy bears Old English Sheepdogs make excellent family pets and may even try to herd children by gently bumping them. Old English Sheepdogs are protective, alert, faithful and gentle.
Upkeep
The Old English Sheepdog needs daily exercise, either a moderate to long walk or a vigorous romp. It particularly enjoys herding. It can live outside only in temperate to cool climates, but it is strongly advised that this breed have access to the house or indoor quarters because it thrives on togetherness. Its coat needs brushing or combing every other day, or it may form mats. It may tend to track in debris.