West Highland White Terrier
General Information - West Highland White Terrier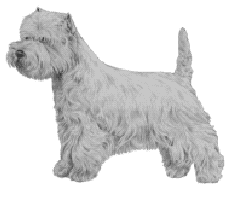 Group:
Terrier
Size:
Small
Lifespan:
12 – 14 years
Exercise:
Moderate
Grooming:
High
Trainability:
Easy
Watchdog Ability:
High
Protection Ability:
Very low
Area of Origin:
Scotland
Date of Origin:
1800s Other
Names:
Poltalloch Terrier, Roseneath Terrier Original
Function:
Fox, badger, and vermin hunting
---
History
In the middle of the nineteenth century, it happened that the breeder of the Cairn Terrier in the country of Argyll, Scotland got some white pups in his litters. Those pups were selected and bred to obtain the West Highland White Terrier, which is simply a White Cairn. Westies were originally bred for controlling the population of rats, fox, otter and other vermin. The Westie first gained attention in 1907 as the Poltalloch Terrier, named for the home of Col. E.D. Malcolm, who had been breeding the Short-Legged White Terriers for the previous 60 years. The breed has gone under several different names, including Roseneath, Poltalloch, White Scottish, Little Skye and Cairn.
Temperament
The busy Westie is happy, curious and always in the thick of things. It is affectionate and demanding, one of the friendliest terriers. It is not friendly, however, toward small animals. It enjoys a daily romp in a safe area or a walk on lead, as well as playtime at home. It is independent and somewhat stubborn. It barks and digs.
Upkeep
The Westie enjoys the outdoors, but it can also function as an indoor dog if taken for regular exercise. It needs either a short to moderate walk on leash or a good game in the yard every day. It should sleep inside in all but the mildest climates. Its wire coat needs combing two or three times weekly, plus shaping every three months. Shaping for pets is by clipping, and for show dogs is by stripping. In some areas, it may be difficult to keep the coat white.